The Fabulous Aluminum-Handled Bread Knife
One of the great things about making your own bread is the option to slice it any way you want it. But to cut through the tough outer crust of sourdough can be a challenge, as can be making a very thin slice. Here's your solution!

I received this knife as a gift and couldn't believe it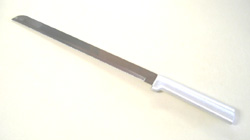 the first time I sliced some of my sourdough bread with it--no knife in my kitchen--and I have lots of them--had ever cut through the tough outer crust with such ease. Now this is the best part...just try slicing some of your warm bread just out of the oven! Yeah, we know we're supposed to wait and let it cool to allow the flavor to develop more, but it smells so good and when it's warm, the butter melts...and it just tastes so good when it's just come from the oven. But the inside crumb gets smooshed, right? Wrong!! Not with this knife. If you're a baker, or even an avid consumer of rustic breads, you will fall in love with this knife.
This fabulous knife has a blade made of high carbon steel and fashioned with incredibly sharp serrations. Overall length of this lovely kitchen tool is 13.75" and it feels really good in my hand. All this for the incredibly reasonable price of $13.50.
I want to see a bigger picture
Blade Length 9.5", Handle 4.25" $13.50
Like all fine cutlery, please protect the cutting edge of the knife by storing it carefully in its blade sleeve or by hanging on a magnetic rack. Washing fine cutlery by hand and drying it immediately are also recommended to maximize its beauty and performance.
About Rada Cutlery
Rada cutlery has permanently cast solid aluminum brushed handles, satin finished. Blades are constructed of surgical quality T420 high carbon stainless steel and are hollow ground to ensure a precision, concave surface for maximum edge retention. The last step in the manufacturing process is a final sharpening by hand to make sure you get a knife with a razor sharp edge.